Trail users have become almost as dependent on their cell phones as on their bikes. We use them for navigation, communication, entertainment and even to take the place of other utilities such as flashlights, calculators and cameras. It's great to have all those tools in one handy little package. But the downside to all that handiness is the need for power. You won't find AC outlets located neatly beside the trail; and even if you did, you wouldn't want to stop to use them.
Bike2Power SpinPower Bicycle Phone Charger Kit
So I was pleased as punch to discover the SpinPower Bicycle Phone Charger. It is distributed by a company called Bike2Powerand allows users to charge their cell phones while riding their bikes. The kit costs $79.95 and includes:
Dynamo 40.2 mm x 94.3 mm (1.6 in x 3.7 in), 250 g (8.8 oz)
Universal Swivel Phone Holder – Opens from 1.75″ to 4.5″, 11.5 g (0.4 oz)
Universal dynamo mounting bracket – fits forks up 1-1/4″ in diameter
Charger 71 mm x 33 mm x 22 mm (2.8 in x 1.3 in x 0.9 in), 36 g (1.3 oz)
Connector Cables 800 mm to 1000 mm long (31.5 in – 39.4 in)
The  SpinPower phone charger kit is compatible with most major Smartphone makes and models. Its adjustable phone holder can hold other USB charged devices besides Smartphones and it charges devices via a USB port. About the only key component that does not come with the SpinPower kit is the USB cable that connects to your Smartphone, and you should already have one of those that came with your phone. The SpinPower unit produces 5V charging power and operates when you are pedaling your bike at least four miles per hour. (slightly faster than normal walking speed)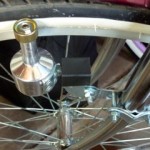 SpinPower dynamo
I found that installing the kit was a snap. I am incredibly non-mechanically inclined and it only took me 27 minutes from start to finish. At one point, I thought I had run into a snag when the mounting bracket didn't seem to fit around my front bicycle fork, but as soon as I looked in the product box, I realized the folks at Bike2Power had anticipated just such an occurrence, and they had included two extra bolts that were long enough to make the fit. After that, it was smooth sailing and extremely intuitive. The only other knuckle headed problem I encountered was when I installed the phone mounting bracket upside down; but that was even easier to fix since it easily swivels once the locking nut is loosened.
For my first test run, I hooked the unit up to my cruiser bike. It is the bike I ride every day for errands and my morning coffee run. As soon as I pulled the bike out of the driveway, I heard a beep from my phone and the charger screen popped up indicating that the unit was charging my phone. Voila!! It was as easy as that. The SpinPower unit was charging my phone while I was enjoying a neighborhood bike ride. Talk about multi-tasking the fun way!!
Mountain Bike Test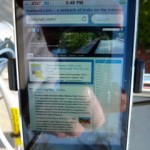 trailsnet on iPhone on bike
My next task is to try it on my mountain bike while navigating a little rougher trail. I'm hoping that it will still fit in the mounting bracket with a protective case, because I'd hate to drop my phone on the trail. Been there, done that!! And even the wonderful folks at Apple aren't too thrilled about providing a replacement for a dropped cell phone.
So stay tuned for further test results for the Bike2Power SpinPower Cell Phone Charger. If you have had any experience with the SpinPower or any other cell phone charging unit, provide feedback on the trailsnet Facebook page or feel free to add your comments below.