Trail of the Coeur d' Alenes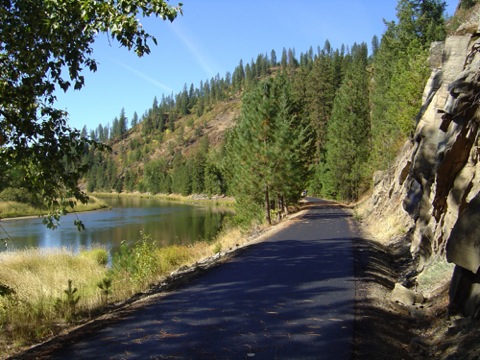 This perfectly paved piece of peaceful paradise is a powerful path to plenty.
Let's list its assets: It's long, smooth, scenic, uncrowded, plenty wide, accessible by numerous forms of human-powered transportation, set amidst forests, rivers, and a huge lake, and is planned to connect with numerous other incredible trails including the amazingRoute of the Hiawatha.
Eventually, energetic travelers will be able to pedal from near Missoula, Montana all the way to the Pacific Ocean via a network of trails that are already well on their way to completion. It will be trail nirvana.
In addition to being a kick-butt awesome trail, this asphalt path is noted for its attraction to numerous international active travel companies and a growing number of human-powered transportation clubs including but not limited to an annual recumbent cycle gathering and numerous inline skating organizations.
Oh and don't forget bicycles. This is, without a doubt, one of America's top trail cycling destinations.
Location: Idaho
Surface(s): asphalt
Use(s): biking, cruiser, dog walking, Elliptigo, hiking, inline skating, mountain biking, recumbent, road biking, trail running, Trikking
Length Range: 50 - 75 miles
Type(s): hiking trail, mountain bike trail, multi-use trail, rail-trail

Gallery: